Newly released federal records reveal 'darkest days' of Chinese exclusion era
Vancouver sun

The century-old documents kept track of all existing Chinese in Canada after Ottawa imposed the Chinese Exclusion Act in 1923, which banned immigration from China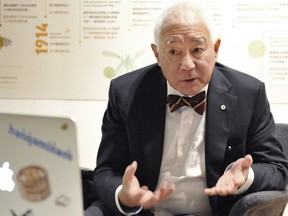 Standing over a table at the Chinese Canadian Museum in Chinatown, Brandt Louie slowly and methodically sifts through the documents before him — occasionally bristling at what he sees.
Jury rules Amber Heard defamed Johnny Depp
The scanned, century-old documents were forms filled by bureaucrats as they interrogated and kept track of all existing Chinese in Canada after Ottawa imposed the Chinese Exclusion Act in 1923, which banned immigration from China for almost a quarter of a century.
The nine documents Louie showed to a reporter Wednesday record the registration of Louie's grandparents, his father and six uncles.
They are the first to be seen in a set that includes 56,000 similar documents for other Chinese in Canada at the time.
"We were quite excited because when we started to look through them, we realized that all the things we had heard about are now true," said Louie, the 79-year-old B.C. businessman who is president and CEO of the H.Y. Louie Co. Ltd., which distributes to IGA stores, and the chairman of London Drugs.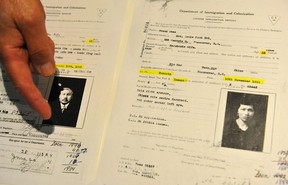 Some of the records have small but important details such as the exact year his grandfather arrived, or that his grandmother was exempt from the head tax because she arrived in Canada as a "merchant's wife."
He said confirming oral history and buttressing stories didn't carry much relevance for him before, but anti-Asian racism during the pandemic made him reconsider the value of doing this so they can be of value to the current and next generation.
He has been writing opinion pieces, promoting the Chinatown Storytelling Centre and a new exhibit, "Seeds to Success," at the Chinese Canadian Museum in Chinatown that traces his family's experience.
"When we heard these stories before, we used to merely assume they were stories of previous generations, that they didn't apply to us," said Louie.
For decades, the 56,000 forms have been stored at Library and Archives Canada and restricted due to the personal information they contain. Randall Wong, the first Chinese-Canadian lawyer to be appointed to a federal court, joined others in applying for them to be released.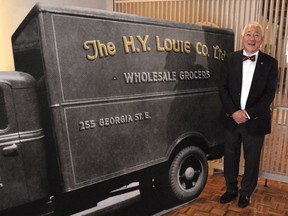 Historian Catherine Clement is currently cataloguing the forms. She estimates the process will take a year and then they will be publicly available.
"What's fascinating is that this is a snapshot of our community just before it enters its darkest days. And I always remind people, at the time this happened no one knew if this (Exclusion Act) law would come off the books, if things would change or get better. You couldn't foresee it would last (until 1947)."
She notes that newspapers at the time give a sense of how the mass registration drive provoked fear and anxiety as much as the closing of immigration.

"There are headlines where we the community is afraid of the registration, afraid of how they're going to be interrogated, of what's going to happen to people if they don't remember exactly what boat they came in," said Clement.

Louie's grandfather, Hok Yat Louie, who started the family's legacy in Canada as a wholesale grocer, would have taken his family in for the process, submitting three photographs for each person. His form states he arrived in Victoria in 1898 while his grandmother, Young Shee, arrived in Vancouver in 1911. The forms for his father and six uncles list them as being born in Vancouver with two recorded as being 10- and 11-year-old schoolboys and the youngest a three-year-old child.
Each has "facial marks and physical peculiarities" listed, including the location and size of scars and moles, whether they are raised or small, by the left jaw or over the right eyebrow.

"It was really quite a classification," said Louie, reading through the forms. "It's almost as if (they) had to undergo a physical examination because how would you know where all these moles are?"

Louie remembers that even after the Exclusion Act was in place, his grandfather did go to China a few times as he was still in the business of importing sesame seeds, ginger and walnuts.

"If he wasn't in the registry, he would have been denied entry. It was used to track people," he said.

Clement, who is gathering the beige paper identity cards known as C.I. certificates issued by the government to people after they were registered in 1923, said that while families are finding and bringing some of these in, many have also been lost or damaged.
"Even though tens of thousands were issued, there are so few left. In some families, they didn't recognize the value and so they threw them out. It was just grandma's stuff. Or as soon as they got their citizenship (in later years), the first thing they did was to rip them up because of the symbolism."And Clement was able to manually go through and find the nine documents for the Louie family members because they had one beige paper card for Quan Louie, the uncle who was three-years-old when he was registered.